Buy Apple Watch Ultra With Logo Online At Best Price In Bangladesh At Uniquegadget.com.bd
Apple Watch Ultra With Logo
This Apple Watch Ultra clone supports Bluetooth calling and NFC Access control at a low price. It is a fitness tracker that got a square design with a 2.2-inch large IPS screen and is equipped with several features including a heart rate monitor, SPO2 blood oxygen monitor, Sleep monitor, Multi-sport modes, IP68 waterproof, and supports voice assistant. As you see in the picture above, this ultra watch comes in a square shape that looks stylish, fashionable, and similar to the Apple Watch Ultra. Measuring 49*41*13mm and weighing about 50g. The S8 smartwatch body is made of titanium alloy while the strap is available in silicone and alpine.
Features:
1:1 49mm Real screw + real belt lock
2.2 "IPS HD square screen
380mAH large capacity battery, Long battery life
Bluetooth Call
Real 49MM
Highest Clone of the Watch 8 ultra with a real 49MM dial.
Straps lock & real dial screws.
High-quality voice calling via Bluetooth.
Edge-to-edge bright, full-touch & rugged display.
Real stainless steel dial with 2 functioning buttons.
Various sports modes like running, walking, football, swimming & badminton, etc available.
Customisable & Cloud base unlimited watch faces.
Quick wireless charging supported.
Smart battery backup.
Additional features: find my watch/phone,  raise to wake up,  always on display, detachable straps, Siri support, music/shutter control, iPhone-styled calculator, phone dialing/pickup, wireless charging, heart rate sensor, SPO2 monitor, step counter, timer, stopwatch, calendar, IP52 rating, serial number working & android support.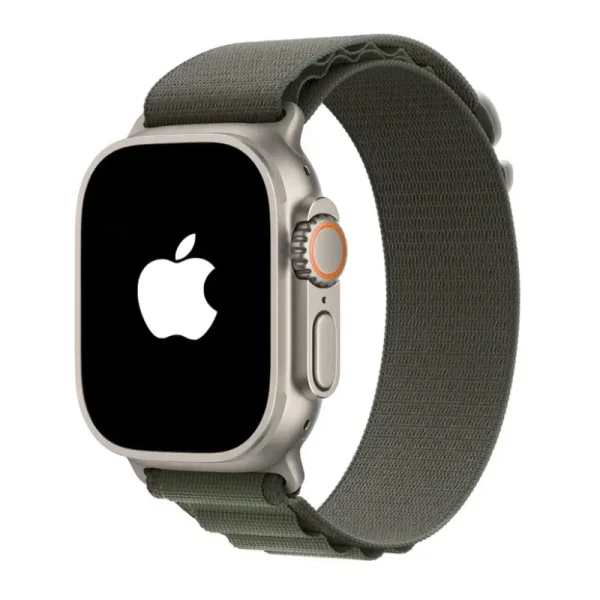 What is the price of Apple Watch Ultra With Logo in Bangladesh?
The latest price of this product in Bangladesh is 4700৳. The product comes with 7 day's warranty. You can buy this product from our website or facebook page. Please check warranty policy before order.